The preface to
The Discarded Image
(TDI) has an interesting and very curious, almost self-referential aspect to it. The whole book itself can be seen as a sort of preface to enjoying Medieval literature. And Lewis makes this very point in the preface to this "Medieval Preface" – ie, that the purpose of such prefaces is NOT to lead the reader OUT of the literature they are diving into, but to help lead them INTO the work. Some people intentionally avoid reading introductions and prefaces in order to meet the text "fresh" without any preconceptions, and that may have value in certain cases. But Lewis here is arguing that this entire book, as a preface to Medieval literature is meant not only to help lead "in" to Medieval literature, but in fact may even help the avoid preconceptions that the reader may not even be aware of consciously.
It is interesting that Lewis gave somewhat the same description of "purpose" (in part at least) to his Narnian books, saying that they were his attempt to get "past watchful dragons" of religious pre-conceptions that make entering a church weary and wary for many people who see the stained glass windows and liturgy as stifling to worship rather than inviting. One could say that the Narnian books themselves are, like TDI is to Medieval literature, a sort of preface to Christianity that help lead one "in".
It is typical of Lewis that even in something as potentially dry and boring as a preface, he can include a delightfully clear little illustration of looking at a map before a trip, rather than during the trip to make his point. This is the sort of thing that makes reading Lewis such a joy and enlightening experience – often the reader can't help but say "of course", even if he might still disagree with the point being made. That, coupled with the firm yet gentle grace with which Lewis makes his points gives his writing such a wide audience, I think.
I mentioned in the introduction one aspect of this study was to find examples of the things Lewis talks about in TDI in his other works, especially the Narnian books and the Space Trilogy. I've already mentioned an example in the second paragraph above. As a (very) side note, in connection with the map illustration above, I suddenly think of the magical map in VDT. In this case it serves an almost opposite purpose to the map illustration in the preface to TDI. In that illustration, Lewis talks about the usefulness of looking at the map before the journey rather than during the journey, but the "purpose" of the magical map in VDT is exclusively to look at it
after
the journey – or at most just a bit after each point of progress – since it only revealed its mapping as or after each place has been visited for real.
Another interesting contrast is that Lewis describes his TDI map as a "tolerable (though incomplete) outfit", whereas the magical map is apparently as complete as the real thing, since the closer you look at it, the more detail you see, presumably even at microscopic levels. And this leads me to another idea that I wanted to bring up in connection with things Medieval, and though Lewis doesn't mention it specifically (perforce, as will be seen) in TDI, in my opinion, it permeates both Medieval thought and Lewis' writing in general. This idea is the modern mathematical concept ("oh no – here he goes":-) of fractals. It can be a complex subject to get into, but in general, fractals are structures or designs that have complexity and structure at every level or resolution that you look at them (one can find many beautiful fractal images from the standard mathematical "Mandelbrot Set" on the internet with a Google search. Medieval architecture with its "arches within arches" and intricate cathedral structures are other "aesthetic" examples of this concept -- below is an example. And as we shall see later, even much medieval literature exhibits something of this quality)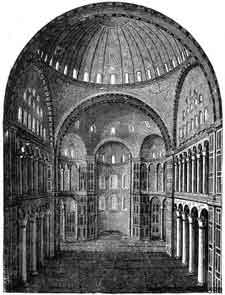 So, for instance, the magical map in Dawn Treader is an almost perfect example of a fractal – it has a map-like look from a normal viewing level. But unlike a normal map that loses its usefulness or structure at some point when trying to look at a small section, the magical map keeps showing structure and detail no matter how "far down" you go in magnification. As we shall see as we get further into TDI, this is akin to much of what appealed to the Medieval mindset.
One of the almost prophetic things about Lewis is that even though Chaos Theory and the concept of Fractals was not developed until the 1970's he (along with Charles Williams) have pretty accurate descriptions of the ideas in their books. In Lewis we can see it almost explicitly stated in the description of the Malacandrian art that Ransom sees on the hammer and gong that Augray strikes near the island of Meldilorn in OSP. The idea is also very prominent in the description of the Great Dance at the end of Perelandra. Very akin to the Great Dance and its fractal quality is the "further up and further in" quality of the New Narnia in LB. And we see something of this idea in much of the landscape (both on the fixed land and the floating islands) of Perelandra, and even things like the LWW Wardrobe and the LB stable and the MN Wood-between-the-Worlds where worlds-within-worlds images abound.
Anyway, since the formal concept of fractals had not yet been developed when Lewis wrote TDI, it is not something we can point to very directly, but I am in awe of his apparent anticipation of the idea whether subconsciously or not. Even the idea of a preface within a preface as I have described above has a very fractal-like flavour, and I can't help thinking Lewis was very aware of that flavour, even if he didn't have a name for it (but wait until we get to chapter V before drawing that conclusion!) when he wrote the preface to TDI.
Just to add another connection to Lewis' other works, this preface seems, in another sense, to accomplish the same kind of introduction that the preface to THS does – ie, in THS's preface Lewis cautions the reader about what to expect from the book so that someone picking up the book who does not like fairy tales will not begin reading it under false pretenses. And in TDI preface he describes the sort of person the book is and is not written for and concludes "…I was writing for the other sort".
And about the "sort" that he was not writing for – ie, the "travelers who carry their resolute Englishry with them all over the Continent" – I think we can see Lewis having a bit of fun with this type of "narrow-sighted" person in several characters in his books. I think Uncle Andrew, Weston on Malacandra, and several others (even sometimes the "good guys") exhibit this characteristic in various degrees.
Finally, Lewis says at the beginning that the book is based on a series of lectures he gave at Oxford. What I wouldn't have given to have been able to attend those lectures!
--Stanley