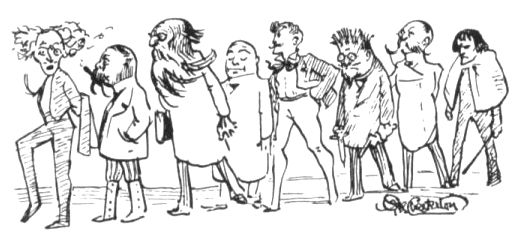 A sketch by GK Chesterton
Orson Welles wrote:"

It can be guaranteed that you will never, never, guess the solution until you get to the end; it is even feared that you may not guess it then. You may never guess what

The Man who was Thursday

is about, but definitely if you don't you'll ask.

"

- Orson Welles introducing the

Thursday

Radio Play, 5th of September 1938
2002 was what I considered to be one of the best reading years of my life. Early in the year I discovered, amongst others, CS Lewis and slowly I began reading many books that I considered some of the best I've read. I discovered Chesterton through Lewis and when I ran his name through the book-search engine of Amazon.com I cam across the oddly named "

the Man who was Thursday

". Intrigued by the on-site review I sought it out at my library and borrowed a copy. I began to read not really knowing what I've gotten myself into.

The thing that struck me about

Thursday

the first time I read it was how incredibly fresh it felt. Although Chesterton's descriptions were wordy it never felt like the writing lagged; it flowed very naturally like a mountain stream, it never got bogged down in the pacing (something that can happen to other writing) and by the end, even though it left my head spinning with no idea what was happening, I felt that I had just discovered El Dorado. Or at least a labyrinthine El Dorado since I was lost for the most part. I have several theories about what it is trying to say (although they are theories that can be proved wrong). I also had some help from other sources.

For instance Martin Gardner, a recreational mathematician, skeptic and non-denominational theist once said in an article I read that the book is about two themes in particular; (1) the existence of evil and its relationship with free will and (2) the search for the belief in a good, caring God in a universe that is totally chaotic and random. (I wont be using all of Gardner's points and theories since I don't agree with them entirely). He also pointed out that

Thursday

is linked thematically to the Book of Job on which Chesterton wrote a long, complex Introduction a year before the publication of Thursday. Here's a quote from that article I found significant.
Chesterton on Job wrote:For if the word "pessimist" means anything at all, then emphatically Job is not a pessimist. His case alone is sufficient to refute the modern absurdity of referring everything to physical temperament. Job does not in any sense look at life in a gloomy way. If wishing to be happy and being quite ready to be happy constitutes an optimist, Job is an optimist. He is a perplexed optimist; he is an exasperated optimist; he is an outraged and insulted optimist. He wishes the universe to justify itself, not because he wishes it be caught out, but because he really wishes it be justified. He demands an explanation from God, but he does not do it at all in the spirit in which [John] Hampden might demand an explanation from Charles I. He does it in the spirit in which a wife might demand an explanation from her husband whom she really respected. He remonstrates with his Maker because he is proud of his Maker. He even speaks of the Almighty as his enemy, but he never doubts, at the back of his mind, that his enemy has some kind of a case, which he does not understand. In a fine and famous blasphemy he says, "Oh, that mine adversary had written a book!" (31:35). It never really occurs to him that it could possibly be a bad book. He is anxious to be convinced, that is, he thinks that God could convince him. In short, we may say again that if the word optimist means anything (which I doubt), Job is an optimist. He shakes the pillars of the world and strikes insanely at the heavens; he lashes the stars, but it is not to silence them; it is to make them speak.
I do believe I am getting a bit ahead of myself though since the book only declares its ties to Job in the final chapters where the above is especially significant, but I do believe that this is something to keep in mind through the reading of the book. I can only hope that we can begin to fathom the possible meaning of this book or at least have a great learning experience for all concerned.
Quick Side-note:
• In order to give sufficient time for participants to respond to any particular post I will say that each new chapter discussion is going to be every two weeks (on Thursdays from now on – I consider it a good day as any ;) ).
• Chapters 1 to follow soon (today).